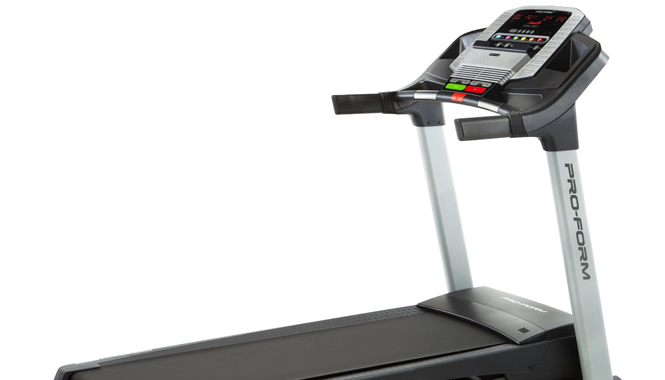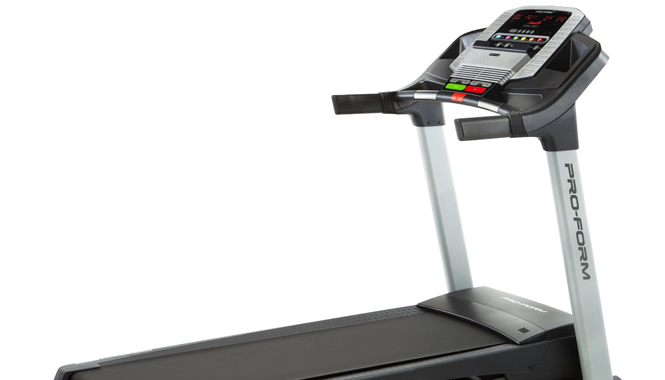 INNOVATIVE AND RELIABLE
Delivering innovative design, reliability, and fast results, the ProForm 505 CST is packed with features that will ignite any workout. It is iFit® Live compatible, comes with an MP3 or iPod port and you can enjoy supreme convenience with the QuickSpeed and Quick Incline controls. Customize your routes using Google Maps, train with Jillian Michaels, or try one of the 15 workout apps included, for a variety in your training. Cushioning provided by the ProShox Lite 3 ensures joint protection and the 505 CST ProForm motor comes with a 25-year warranty.
"The ProForm 505 is fantastic! I have been running for many years and have never liked treadmills – until now. The excellent cushioning has helped with my ankle with an old sports injury and the smooth operation just feels right. As expected with any treadmill, the assembly can be a bit annoying, but the many options, including Google Maps, makes any workout interesting – and this treadmill comes at a brilliant price too."
ProForm 6.0 RT
The ProForm 6.0 RT perfects the art of saving space while still delivering an easily controlled and exciting workout. With 8 built-in routes and Quick Speed controls for adjusting speed and elevation, you can customize any run. With its easy and compact design when you are done training, you can simply fold it up and pack away.
"I am 66 years old, have high blood pressure, and am slightly overweight and my husband also has a very bad heart. We worried about spending all this money on a treadmill we did not know much about and we worried about how we were going to be able to put the whole machine together. I am so glad we overcame our reluctance and tried it.
There was no problem with the shipping and our treadmill arrived on time. I wish I had known delivery was only to a threshold, though. We had to open the box and then carry it one piece at a time in our downstairs family room. Once there, though, we found the directions to be clear and complete. It may have been quicker with two people working together, but remarkably, I managed to assemble it all by myself in only 3 hours. Once it was up and running, I started with an easy 20-minute workout. Over the past month, I have managed to increase my exercise time to about an hour every day. I am amazed at how much more energy I have now! I am sure my doctor will be even more impressed too, as not only has my arthritis improved; my blood pressure is down to a normal level now. This has been a very worthwhile purchase and I'm amazed at how wonderful I feel."
ProForm Power 995 Treadmill
"The Power 995 Treadmill from ProForm is both quietly and powerful. Two of my family members and I are using it. We have found it sturdy and it does not squeak or shake, as some other reviews have said it does. I think that comes down to putting it together correctly, which just takes a bit of patience. If you are a fan of anything but classical hard rock (like me), the speakers are great. I would love them to be louder for me though. I look forward to buying the iFit module when I can afford to because it sounds so great, but I cannot comment more on it for now.
At a normal price of $999 (I got ours on sale from Amazon for $799), it is affordable and you get great value for money. Compared to the Nordictrack I had before, I miss the insulating pad beneath the belt. However, a good pair of sneakers takes care of that. The unique design makes it easy to move – even for my wife! I no longer have to shift it around for her. For great value and a tremendous, reliable Proform treadmill for your workouts, this is a winner."