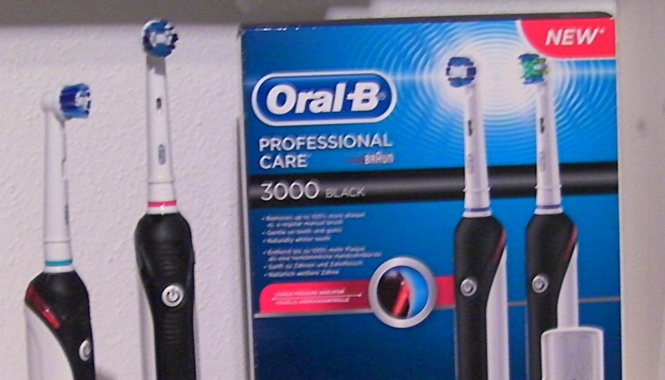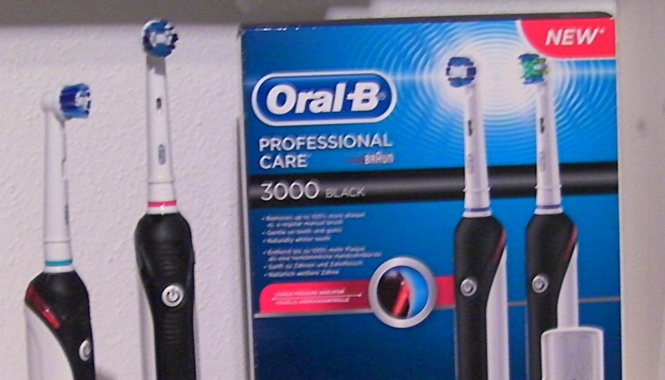 I bought an Oral-B 3000 Professional rechargeable toothbrush. My dentist recommended it to me as a low-cost alternative to expensive sonic brushes. It works amazing, and I have no issues with battery life (I plug it in every night) or quality of product.
One of the neat things about this brush is that it sends out periodic reminders to brush different areas of your teeth. Every 30 seconds the handle vibrates, letting you know that it is time to move on to another area. After a few minutes it gives you three shakes to let you know that you're finished brushing and can get on with your day. I found these timers to be very helpful when I first started using the brush, as before I ordered this brush I generally would brush for less than a minute. Now that I have the rhythm, however, it's more of a gentle reminder.
The Oral-B 3000 brush has a rotating round head ridged with brushes that sweep in between your teeth, removing plaque from the crevasses. Its also more effective for removing plaque on top of ridged molars and the indented backs of incisors. And to top it off, the vibrating sensation is a bit like a massage for your teeth, and makes you actually want to brush.
As far as teeth cleaning goes, this brush gets it done. You can feel the rotating action of the head and the stiff bristles scrubbing away at plaque and coffee stains. You can actually feel the bristles getting in between the crevasses of your teeth and rubbing up against your gums. Personally, my teeth have never been cleaner.
As far as product issues go, I've never had any issues with my Oral-B brush, except for the few times I've left it off charge by accident. Compared to a regular brush, $75 or more may be a lot to spend, so I imagine that might be one turn-off. They're sleek and great for travel, but don't forget to pack the charger. Overall though, I'm completely satisfied with my investment, and can recommend the Oral-B Professional 3000 series to anyone.