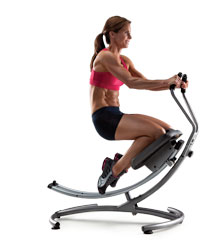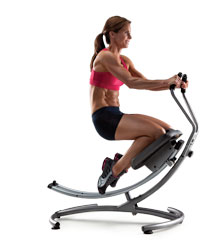 Almost all types of AB machines claim that they result in weight loss and an amazing body structure. Similar is the case with Proform AB Glider. Does this abs machine really gives you the results what you are looking for? To know about it let's just look at the both sides of the picture, positive as well as the negative aspects.


First off, what exactly is Proform AB Glider all about? This exercising machine has some amazing features and benefits.
Comfort and durability
AB Glider is made up of strong steel that supports up to 300 lbs. This means it has enough capacity to handle heavy weight. The foam cushioned seat is comfortable enough to sit on and exercise.

Workout and diet plan included
The Proform AB Glider package consist of some supplements as well such as Abs eating guide and workout DVD's. This feature is beneficial because it gives you an advantage of learning various exercising techniques and different methods of Abs workout. Apart from this, the eating guide will help you know which diet plan to follow and which food items are necessary for you to take while doing abs workout.
Onboard computer – Track your progress!
This machine also consists of an on-the-board computer which helps keep a track record of your working time and provides you with information such as how many calories you have been burning while working out. This means you can keep a record of your exercising performance while at home.
Unique movements – improve your AB faster
Now coming up to the fact that how Proform AB Glider is successful in making you lose pounds and give a perfect shape to your body. First of all, AB Glider results in specialized movements that specifically target your abs and lower part of the body. You can move not only forward and backwards but sideways as well. This movement exerts pressure on your waist; particularly abs whereas the sideways movement is helpful is moving your thighs and hips.
Through the lateral and vertical motion, you will be able to activate more muscles than you could have done otherwise, with on-the-floor crunches. This is the major benefit of Proform AB Glider; there's no need to do on the floor sit ups or any other exercise because on the floor exercise requires much effort and eventually it makes you feel exhausted. AB Glider enables you to burn twice as much as calories compared to any other AB machines.
Price
Talking about the price; many customers are of the view that if you weight the cost and the benefits it provides then price is really not an issue. As long as something meets your expectations and fulfills your needs then it is worth the money you pay for it.
Many customers are happy with the product and they are happy with the fact that they have actually lost weight and have resulted in a better body shape as of before. This means AB Glider is not that bad and in majority cases, it has done wonders.
Easy to use
Another positive aspect related to Proform AB Glider is that it is easy to use if you're a beginner. So AB Glider is not only for advance level users but for beginners as well. Though it gives you a tough time for a week if you are a beginner but after that you will see the positive changes for yourself.
Many people who have back aches or constant muscle problems/pains are recommended by doctors to get some exercise. This is exactly where Proform AB Glider comes in; it is specially recommended for those who have muscle aches. Since AB Glider provides you with dual motion exercise, it is interesting to note that Proform Glider has solved this problem for many people out there.
Drawbacks
Now what about the negative aspects? A lot of customer feedback shows that Proform AB Glider does benefits you in the long run however the one basic problem that almost everyone has faced with this product is the assembling part. This product can take you a lot of time in assembling the parts together.
Apart from that the machine parts are heavy too so this is not something that a person alone can do it. Moreover, many people have problem when it comes to kneeling on the machine. It could have been better if knee pads with cushions were provided. Otherwise, it's a win.