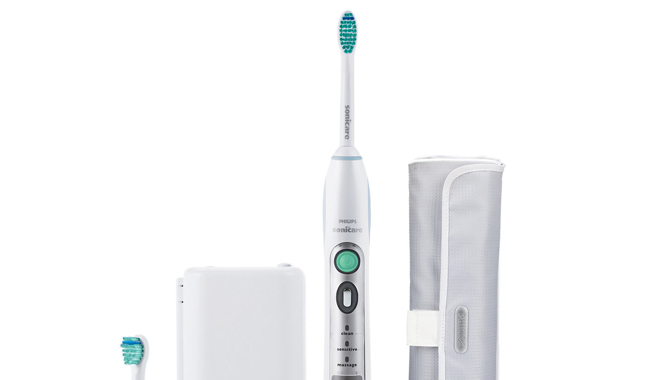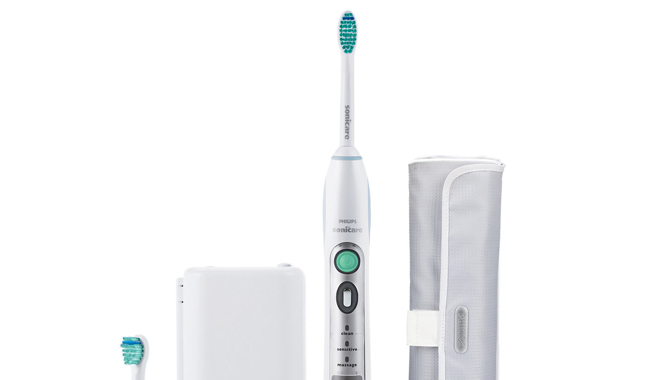 Sonicare FlexCare is specially designed for small mouth size. It has an excellent ability of cleaning teeth. It is quite gentle, smooth and better than other electric tooth brushes in market.
Features of the product
Sonicare FlexCare is rechargeable.
It has a unique brush head design that ensures reduction and ultimately removal of plaque.
It has three distinct cleaning modes. "Sensitive" cleaning, "massage" and "maximum" cleaning.
It has a lithium battery that needs not be charged for at least 14 days.
Sonicare FlexCare has warranty of two years and it includes charger, travel case and brush head.
It has a timer that shuts off the brush after two minutes.
Also it will let you know when to move to the next brushing zone.
The broader sweeping motion will ensure complete cleaning and gives you fresh breath all the day long. Head of the brush is good and compact
Easy to use
It has a great grip which makes it easy to reach areas that are beyond reach and makes the mouth fresh. The brush can be controlled easily .Brush head size varies from "normal" to "mini" depending on your need. It has superior results and high customer rating as compared to Sonicare Elite. It is small in size up to 30%, produces less vibration up to 80% and is lighter in weight.
Sonicare FlexCare Offers:
It has two types of cleaning routines. One is of 60 seconds that offers regular brushing called "Go Care" and the other is "Max-Care". It has a three minute cleaning procedure. It has 2 minutes for cleaning and 1 minute for smooth massage.
It also offers flexibility in modes. "Clean" mode is meant for thorough brushing; "Sensitive" is for sensitive parts of mouth and "Massage" takes care of smooth and soft cleaning action.
Sonicare FlexCare Box Contains:
It has a Sonicare toothbrush, brush head, a charger with wire cover, travel case, germ free travel cap and three color code rings.
Battery Features:
You will not have to worry about the charging while travelling as Sonicare FlexCare's lithium ion battery is safe environmentally as well as is strong and stores more energy as compared to other batteries. There is a recharge gauge in the handle that will keep you updated about the amount of charge left.
The people who use it in the start can go by slowly increasing the power of brush in two weeks.
It is highly recommended because of its light weight, smaller size, less vibration and ProResult brush heads.
All makers of electric brushes claim that their product is best but the choice is always personal and Sonicare FlexCare suits most population if they are used to electric brushes.
Its negative point is just that it has heavy vibration and makes some noise. You can adjust the vibration intensity as well to cover it. There are too many modes that may confuse users.
Still, it's the right choice and better that many other brushes if you really care for your dental health.