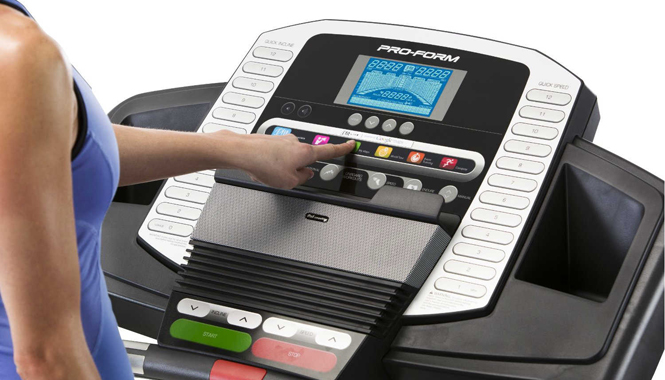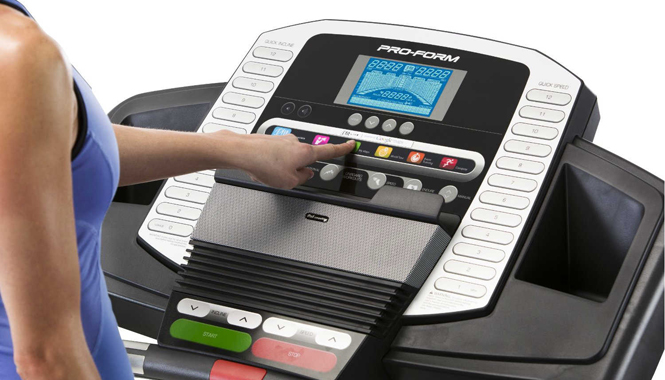 Delivering innovative design, reliability, and fast results, the ProForm 505 CST is packed with features that will ignite any workout. It is iFit® Live compatible, comes with an MP3 or iPod port and you can enjoy supreme convenience with the QuickSpeed and QuickIncline controls. Customize your routes using Google Maps, train with Jillian Michaels, or try one of the 15 workout apps included, for a variety in your training. Cushioning provided by the ProShox Lite 3 ensures joint protection and the 505 CST ProForm motor comes with a 25-year warranty.
-Each step is cushioned by ProShox Lite 3, which maximizes your joint and back comfort and protection.
-Convenient storage ability allows you to fold the spacious deck vertically when not in use.
-Sensors built into both handlebars monitor your heart rate. This ensures control over achieving your training goals and that you get the most out of each workout.
-Use iFit Live Technology for smarter workouts (adapter sold separately). Design your own workouts tailored to your needs and upload your results to iFit.com. Run with Google Maps anywhere in the world, draw your own map, or choose an online course. It features training with Jillian Michaels and auto-adjusting speed and elevation. Compete with others from around the world and train for real-world races – from the comfort of your own home. Internet connection privacy is ensured.
-The 6-inch backlit display is easy to read with a large viewing angle for reading from varying heights.
-Included are 15 workout apps have been created especially for you by a certified personal trainer. Choose your goals in time, distance or calories burned, to optimize your results. Navigation is simple, quick, and easy to use.
-A great workout is best when accompanied by great music. A built-in sound system allows you simply to plug in your player, providing unparalleled sound quality and keeps the music controls within easy reach.
-Your favorite workout sounds are brought to you by the Intermix Acoustics 2.0. This sound system produces a rich, equalized sound and handles a broad frequency range.
-With an efficient self-cooling drive system, the 2.25 Mach Z motor is quiet, yet powerful. An axial fan cools as it reduces noise levels to optimize your workout experience. This improves the motor's efficiency and longevity.
-Traditional incline controls can be tedious if you are looking for a fast change in elevation during a workout. Quick Incline control allows one touch of a button to adjust the incline easily by up to 10 percent.
-The quality of the treadmill belt can turn a tedious workout into a great one. The quiet and smooth operation of this 20" x 50" belt is designed with you in mind.
-Traditional speed controls can be tedious if you are looking for a fast change in pace during a workout. QuickSpeed control allows one touch of a button to adjust your speed instantly by up to 10 mph.